FREE EVENT
Always a highlight of DDCF, Friday Dance Party is an exciting late night event that brings people together to celebrate dance through a nighttime dance party featuring electric performances by dance crews from Detroit and beyond.
enjoy a live DJ, cash bar, and an improv jam featuring hip hop artists and live music by Global Pungmul Institute, fan favorites from DDCF 2017 who are returning this year!
AS THE OFFICIAL KICK-OFF OF OUR FULL WEEKEND OF DDCF EVENTS, FRIDAY DANCE PARTY IS AN EVENING OF CELEBRATION, MUSIC, AND MOVEMENT ALL IN ONE. come dance and party with us!
Friday Dance Party Artists
DJs: DJ Unexpected & ProblematicBlackHottie
Sherry Lin & Co.
Dance Cat-alyst
High Frequency
Global Pungmul Institute
House of Jit
From The Diaspora
Mathangi Dance Crew (M.D.C)
Mission Accomplished Crew
Melodic Nocturne
MEET THE ARTISTS
House of Jit is a collective group of artists specializing in Detroit's footwork style known as Jit. The company was created this year of 2019 and founded by three dancers who share a common passion for Jit. Our mission as a company is to plant Detroit Jit into the mainstream world. Two of the members have been jitting for a very long time and showcased Jit all around the state. Michael Manson and James Broxton showcased Jit to the sports world as NBA dancers where they danced alongside with artists such as Flo'Rida, ‪Bell Biv Devoe‬, ‪Bobby Brown‬, ‪Mc Hammer‬, ‪Jay Sean‬, ‪Morris Day‬, ‪T-Pain‬, Salt N' Pepa, 112, Sheila E, ‪Debbie Gibson‬, and ‪Robyn‬ S. Michael Manson, our leader, was featured on a television show called So You Think You Can Dance performing the Detroit Jit. He was also able to take Jit around the world such as Paris and Bolivia. Lilanie Karunanayake is the newest member of the team and she has been jitting for over a year now. The three artists want to make a difference in the dance community and continue make jit happen.
Global Pungmul Institute (GPI) is a Chicago-based 501c3 non-profit organization. As a community-based cultural and educational organization, GPI is dedicated to promoting traditional Korean cultural and performing arts, especially Korean drumming called pungmul.
Mission Accomplished Crew
From Detroit, MI Founded In 2014 By Corey "Mission" Whitfield, this crew has multiple battle/competition championships under their belt such as Battle Grounds (2006), Detroit Best Dance Crew (2008), Battlefest (2010), Memphis Vs Everybody (2016, 2017, 2018). This crew comes with professional dancers that dance for the NBA with the Detroit Pistons and have toured with the World Famous Harlem Globetrotters. Also having two members appear on So You Think You Can Dance season 10 and 12 with making it all the way to the end of Vegas Week. They are a versatile Hip Hop crew in numerous Hip Hop styles and their "Mission" statement is to truthfully and humbly teach, encourage and promote the growth of the Hip Hop elements/Foundation in its different forms in Freestyle and Choreography for all ages and that failure is only a mind set.
From the diaspora is a group of afrobeats dancers living in the diaspora(also known as the United States) most are indigenous aboriginals of American with lineage tracing back to Nigeria, Cameroon, Bioko island and many more. This group specializes in afrobeats dance; an urban African dance style guaranteed to get you up off your feet and moving around. FTD's goal is to spread love and high vibrations through the rhythm and groundedness of afrobeats dance.
Melodic Nocturne Dance Tribe is a contemporary Jazzfunk dance company, specializing In story telling. Founded January 19, 2008 by Director: Uri Mercury, Melodic Nocturne is the longest running non-collegiate dance company in the state of Michigan, 2nd only to the legendary HardCore Detroit. In their 11yrs active, they have graced stages from Detroit, Chicago, Milwaukee, Atlanta, to LA.. keeping Jazzfunk alive in an ever changing world where technique and the importance of lines in hiphop and funk styles have been getting lost.
Choreography: Special Agent C
Cat Manturuk is the founder and artistic director of DANCE CAT-ALYST, a soul-driven contemporary dance company. A native of Detroit, MI, she holds a BFA in Dance and BS in Exercise Science from Western Michigan University. DANCE CAT-ALYST seeks to motivate and educate audiences about health, dance, and fitness with dance pieces and outreach programming. DANCE CAT-ALYST has created their unique style of movement, "MOD-HOP-JAZZ." A dynamic approach to movement that incorporates elements modern, hip-hop and jazz with a strong ballet base.
Choreography: Sherry Lin
Sherry Lin is a hip hop and street dancer and teacher from Chicago, Illinois. She performed for several years with the Hip Hop ConnXion Dance Company and earned a degree in nutrition from University of Illinois at Chicago. Sherry received scholarships and recognition for her work at the Word In Motion Urban Festival in Los Angeles, Establish Your Empire Dance Showcase in Chicago, Dance Revolution Convention in North Carolina, and Project Dance Costa Rica. She is currently a graduate student instructor at the University of Michigan pursuing a Master's in Fine Arts in Dance. Her mission is to promote holistic wellness through dance, nutrition, faith, and community.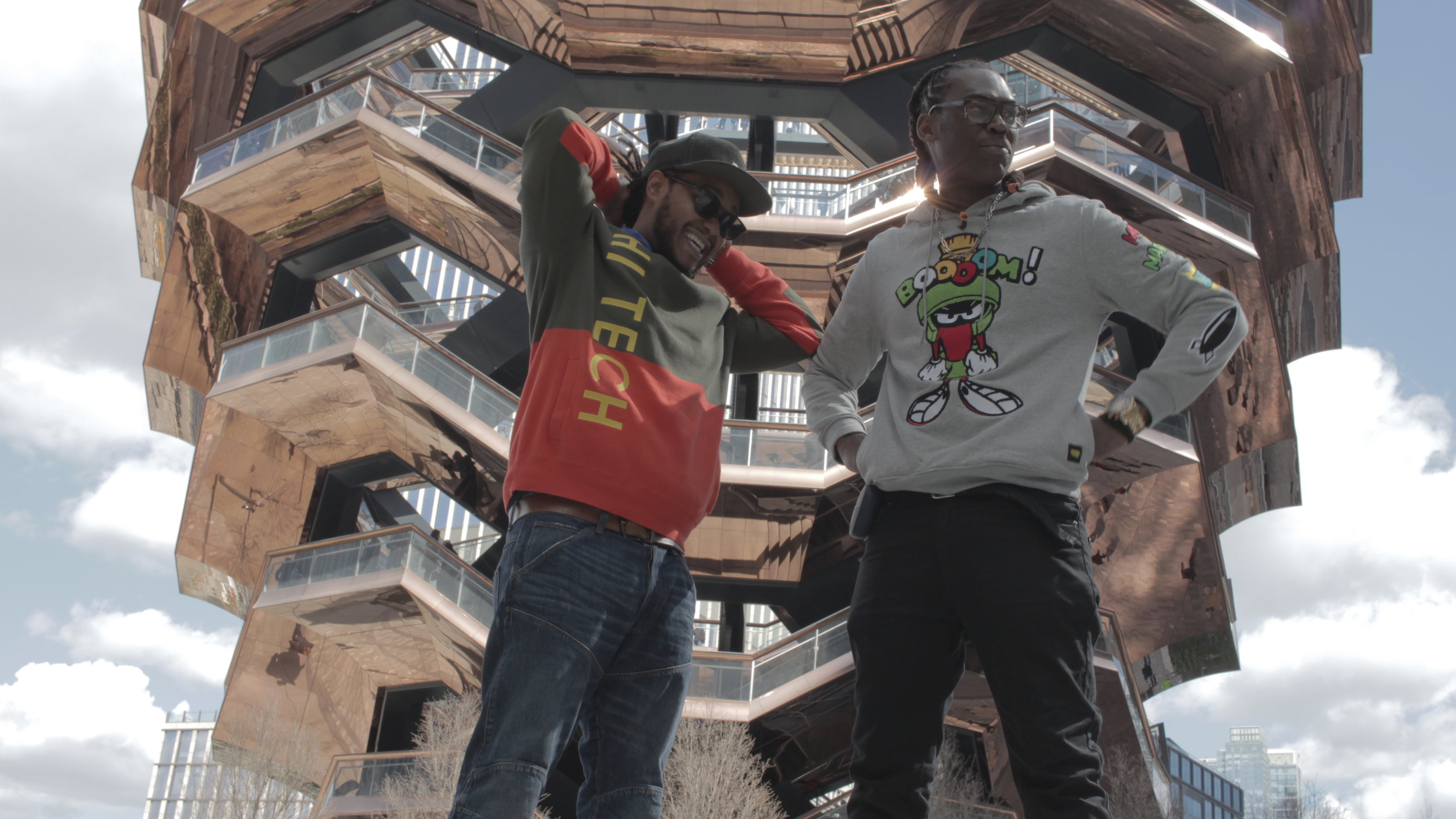 Choreography: Demorne Warren and Yves Saint Lyric
Demorne Warren is an MC that grew up in Jamaica Queens during the golden era of hip hop. As a teen he began to sharpen his skills. After meeting friends who were producers the crew began making music in D&D Studio. They would name their record label "Do For Self Entertainment" taken after a slogan by the Black Panther Party. Those recordings laid the groundwork for their sound and some of those songs were featured on "The World According To D..." released on Do For Self Entertainment in 2006. In May of 2016 Demorne Warren released "Excelsior". "The World According to D..." & "Excelsior" are available on CDBaby, iTunes, Google Play and Amazon. In 2018 Demorne Warren teamed up with fellow Queens NY native Yves St. Lyric as a super group High Frequency. The 2 of these artist can hold their own however together High Frequency is a force to be reckoned with.
Mathangi Dance Crew (M.D.C)
MDC is a leading Michigan based Indian dance company based out of Troy, Farmington and Canton, on a dream mission to take every soul on a blissful journey through Indian dance forms like Semi-Classical, Bollywood, Kuthu,Bhangra and Indian Contemporary. Be ready to witness the energetic and colourful performance.
DDCF DANCE PARTY MEMORIES
2018 ARTISTS
Modern Table, Mission Accomplished Crew, Melodic Nocturne, Hardcore Detroit, Dance Cat-alyst, Vernique Dyson & Xiquala Dyson, DJ Myron